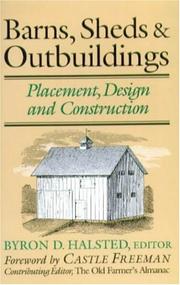 This reference was originally published in 1881, but it is still a rich and relevant source of information. I stumbled upon the text and only began reading it because of my infatuation with barns. I quickly realized that I'd found a resource that many small-scale or hobby farmers would surely enjoy.
Barns, Sheds & Outbuildings: Placements, Design & Construction (1994) contains 257 illustrations of various barns, sheds and outbuildings. A lengthy description accompanies each building featured. The descriptions explain in more detail the structure and purpose of the building. For example, "Mr. David Lyman's Barn" was a multipurpose barn, which housed a multitude of farm animals and equipment and provided food storage. His barn was well equipped to serve many purposes. Other barns featured are only for cattle or pigs. Spaces for poultry, ducks, grains, ice, meat preservation and other purposes are all featured.
For those of us who are trying to live a simpler lifestyle by growing our food and raising our own livestock, you'll surely learn something about farming and it's accompanying buildings in this book.
Find it on Amazon or at your local library!